Based in Rotterdam Kralingen, Atelier van de Ven creates unique handmade ceramics and porcelain pieces. Founded by Dutch designer Jessica van de Ven, it is a ceramic laboratory where experiment is key. Using mainly porcelain and stoneware both functional objects and artistic sculptural work is created in the atelier, strongly influenced by Japanese and northern European aesthetics.
The focus is on small-batch, high-quality artisanal ceramics. The ceramics are largely minimalist and functional, but there's also artistic and sculptural work being produced. Whether you need a cup, vase, set of plates, or just a beautiful sculpture, there's something for you.
Various techniques are used, slipcasting, wheelthrowing, handbuilding and combinations of these techniques. Every item is made by hand and unique. The goal is to create items that are handcrafted, well designed, timeless and durable.
To reduce the carbon footprint, the firing is done in an electric kiln that runs on green electricity. The porcelain, stoneware and glazes are made in-house, using locally (European) sourced ingrediënts that are non-toxic and leadfree. All material is reused, leaving waste to a minimum.
Atelier van de ven.store is a collaboration between ceramicist Jessica van de Ven and stylist Monique Weski.
You can buy the cups, trays and more for your home, either online or in the atelier/store, located in Kralingen Rotterdam.
Visit the atelier/store to see everything there is to offer!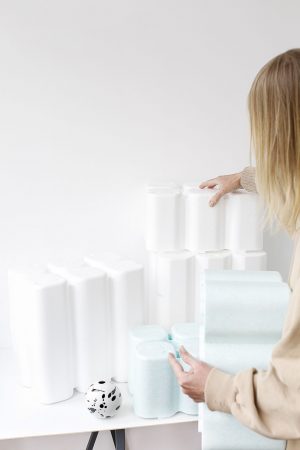 Styling the Splash collection
DEVASTATOR
Van Oldenbarneveltstraat 124a
3012GW Rotterdam
The Netherlands
+31 6 348 100 16
byBranderhorst
Voorstraat 199
3311 EN  Dordrecht
The Netherlands
+31 6 13428808